Thanks Ian for your kind introduction.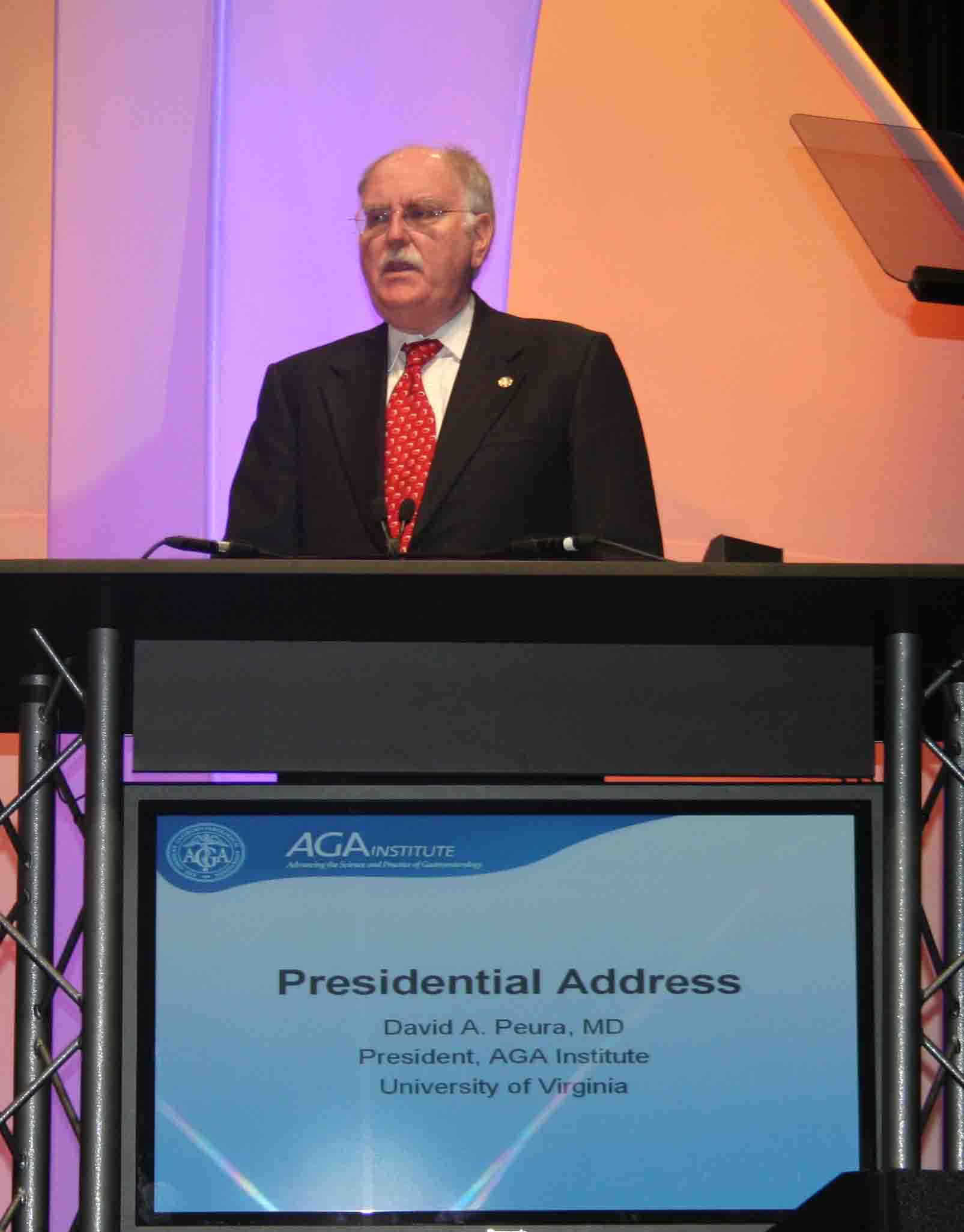 I thought long and hard about what to say today. What could I possibly say that would be meaningful, make an impact and be remembered? I could discuss the finances and reorganization of the AGA. But these things will be discussed tomorrow morning at the business meeting which I hope you will attend. What about a capsule summary of practice issues and what is going on in Washington but these topics will be discussed Tuesday afternoon at a session which you can attend. I could revisit the strategic plan but AGA's annual report will highlight organizational directions, committee activities and selected programs in much more detail and more eloquently than I possibly could this morning.
So I asked my wife Kristin what I should tell you about. She said don't tell them anything – talk to them about what it meant to be AGA president - what you learned and experienced this past year. This is the last time you have a captive audience - use the time to talk about what is important to you. She also bet me that I couldn't get through this plenary session without crying – so many wonderful truly amazing things have happened to me this past year. Since I always listen to Kristin, I'm going to talk to you about something important to me- Time – A time of Need, A time of Concern, and A time of Change.
First a Time of Need
During this presidential year I have traveled around the country and around the world. I'm grateful for the warm reception I have received from colleagues across the U.S. and from Asia, Europe, Mexico and Canada. No matter where I travel I see that gastroenterologists everywhere place a high value on professionalism, addressing the needs of our specialty. Professionalism is addressing these needs by providing quality patient care. It is advancing scientific understanding of digestive disease. Professionalism is preparing the next generation of gastroenterologists, as well as committing ourselves to lifelong learning and discovery.
I am proud that AGA is working to institutionalize this commitment to professionalism - that we are taking concrete steps to help clinicians, especially young gastroenterologists, provide high-quality patient care- that we are focusing on the future - that we are dedicated to move forward in a thoughtful patient centered manner. To waiver from our commitment to professionalism is to threaten our core ideals – those ideals that shape us as individuals and as an association.
In this past year, one of the areas in greatest need has been the Gulf Coast. My work as president recently took me to New Orleans where I visited with colleagues who are patching together their practices, their city, and indeed their lives, after Hurricane Katrina. Despite incredible pressures and hardship, the Gulf Coast medical community has a positive spirit and patient first attitude. Later in the program we'll hear from two of our colleagues, Ian Taylor and Peter Traber who worked together to attend to the critical needs of countless individuals in the days after the storm. Their incredible story is a living illustration of professionalism at its best.
In this time of need, AGA offered relocation grant support to GI trainees affected by the hurricane – I received letters from grant recipients describing the frightening events that they and their families experienced during the height of the storm and its aftermath and expressing their sincere gratitude to the AGA for the financial assistance. These trainees, some of whom were trapped in the hospital along with their patients, personally experienced professionalism and this experience will profoundly influence their lives.
When we think of need, we often think of Philanthropy. You may recall I designated my presidency as a Year of Philanthropy. Most of us have causes that we believe in strongly enough to support with charitable gifts, and I'm pleased to report that many of you from around the world chose to support the AGA's foundation. Thank you! Together, through member contributions and planned gifts, we have been able to more than double the size of our research endowment from 2.5-million dollars in 2004 to more than 6-million dollars. This will allow us to fund more researchers and provide larger grants than ever before. Foundation grants are a concrete example of our commitment to the future of gastroenterology and the next generation of GI researchers.
The foundation has also received substantial support from industry, including a spectacular multi-million dollar gift from Astra Zeneca - the largest unrestricted gift to the Foundation and the single largest gift to gastroenterology ever. AGA grant recipients are selected with no strings attached to our industry donors. Such unrestricted support, which started with TAP pharmaceutical's major grant in 2005, is unprecedented and, along with the commitment from our members, has been one of the most rewarding aspects of my presidency.
This is also a time of concern – concern about future teachers and scientists – concern about research funding – concern about the viability of academic medicine and medical centers – concern about the chronologically gifted among us - what role will we continue to have as our number increases.
I recently participated in the Academic Skills workshop and was inspired by the young men and women who I met there. I'm delighted that our ranks include such impressive, bright young gastroenterologists. After the workshop, I received a note from a trainee who thanked the AGA for our commitment to the future of the specialty. This trainee expressed a desire to return to the workshop in the future but as a mentor– you see even at this early stage of his career he recognized the importance of paying back- supporting future careers as we ourselves have benefited from the guidance of others. In the hands of this fellow, and many others like him, the future of gastroenterology is bright. We need to help these individuals in every way possible. This is our obligation and the right thing to do.
One concern that affects me personally is the future role of older gastroenterologists. Many of us are facing a difficult career choice - how to wind down but not wind out. We have never faced such a large scale maturing in our profession and it's clear we can not afford to lose this precious resource. How can we best capture their unique wisdom, experience, and knowledge? I challenge the AGA to ensure the lifelong vitality, relevance and value of a gastroenterology career. As we develop resources to enhance early GI careers– let's not forget late career support.
Many concerns of gastroenterologists center on issues under the control of federal policymakers. Biomedical research funding, Medicare reimbursement are medical liability are matters affecting us all whether we're scientists or practitioners. If we don't speak up for the issues that concern us and our patients, no one else will do it for us. The AGA formed a political action committee or PAC to augment our advocacy efforts and visibility among key leaders in Washington. Join me and get involved with AGA PAC and make your concerns heard.
This is also a time of change. Some view change as a threat – successful people and successful organizations, like the AGA, view change as an opportunity. I began my GI career in the BC ERA – before cimetidine – when gastroenterologists took care of ulcer patients and measured acid secretion. Endoscopy was in its infancy and we learned to do upper GI studies and barium enemas during. As a gastroenterology Luddite, I could have resisted change, remained an ulcer doctor, and continued to do barium studies. Along comes Barry Marshall - so much for my chosen career. Who in their right mind would have suggested bacteria cause ulcers in the BC era?
Barry's out of the box thinking was recognized this year with the Nobel Prize for Medicine or Physiology. Kristin and I were thrilled to accept Barry's and Adrienne's invitation to attend the week long festivities honoring one of our closest friends. It took years for the gastroenterology community and the world to recognize the value of his discovery. Nobel prizes typically go to scientists engaged in basic research, but Barry has shown that simple clinical observation can lead to revolutionary findings that fundamentally change a specialty. His discovery underscores the importance of listening to our patients, keeping an open mind and questioning established facts. Later this morning, we will honor gastroenterology's Nobel Laureate by awarding him the AGA's William Beaumont Prize.
Does anyone here believe that change in gastroenterology will stop with H. pylori? There was another BC era in our specialty, before colonoscopy – hard to believe when today more than half of a Gastroenterologist's time is spent with a colonoscope in hand! Endoscopic Luddites will continue to oppose non invasive GI imaging and alternative diagnostics. During this time of change organized gastroenterology must do what is right not what is expedient. I am proud that AGA is not tied to the present, but rather looking to the future and is willing to loudly articulate and advocate for opportunities that accompany change. What AGA says may not always be what you want to hear but we must say it and will continue to say it because to do otherwise would be to betray you our members.
The AGA is so committed to change that we flexed our advocacy muscles to secure a National Commission on Digestive Diseases at NIH. Selected commissioners include an AGA past president, our incoming Vice President and a number of prominent AGA members. With their input, we expect the commission will reshape the future of GI research at the NIH.
Only one individual annually is privileged to be president of the AGA but many share the honor since one individual can't achieve the office alone. As my presidency ends I want to thank friends and colleagues from around the world for their hospitality, their support and for sharing their thoughts and concerns. I learned a lot during my travels and this knowledge allowed me to be a better informed advocate for the issues that are important to you.
John, Jack and Rob, presidents of our sister societies, this year we have cooperated effectively in many important areas yet when we have not agreed on issues, we have respected each others opinions and remained collegial. Thank you and I hope our societies can continue to build on our successful communication and collaboration.
I want to recognize my colleagues and fellows from the University of Virginia who were so understanding and helpful this year. With out their cooperation it would have been impossible for me to carry out my AGA presidential, academic and clinical duties.
To my mentors, many sitting in the audience, who have over the years unselfishly given me advice and guided my career, I hope I have represented you well this year. What a wonderful gift you have given to me and to so many others.
Thanks to the volunteers who serve AGA developing and implementing our many programs. Special thanks to the governing board and officers. You are talented, insightful, dedicated leaders - a blessing to the AGA. I have enjoyed working with and learning from each of you.
I am particularly appreciative of the AGA staff without whose guidance and patience I could never have kept up with day to day issues nor been able to understand the big picture. Imagine each year a new president comes along with different ideas and different style and it is their job to make it work.
The one regret I have is that my parents are not alive to celebrate with me today. They instilled in me a respect for life, an understanding that hard work leads to success, a commitment to honesty and a deep belief and reliance on God.
To my daughter Jessica, son Brian and daughter-in-law Jennifer thank you for being here for your dad. Your mother and I are very proud of you for your many accomplishments. As Grammie always said "remember where you came from".
To my bride of 37 years, Kristin thank you for always being there for me, listening to me, offering me advice, sharing me with the AGA, and reminding me why I became a doctor. I love you!
Mark, the AGA is a precious diamond- take care of it, polish it and let its beauty sparkle for the whole world to see!
Good Luck, be careful out there and may God bless each of you.